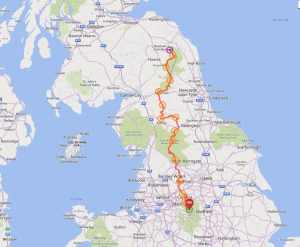 In three days, on Sunday 19 June I will be setting of to try and run 268 miles (425KM) up the Pennine Way as part of the Montane Spine Race. I have 6.5 days to complete the course.
I am raising money for a fantastic charity called CoppaFeel! who do great work in promoting breast cancer awareness – particularly amongst younger women.
If you are able, you can make a donation to this cause via my fundraising page.
You can read about CoppaFeel! and its founder Kris here. I have known Kris for several years and the way she has met with adversity and used it as a platform for good is amazing.
This race will be 100 miles (160 KM) longer than any race I have done before. On the route we need to navigate, carry food and safety equipment, and water. Every 50 miles (80KM) there is a checkpoint where we can change clothes, pick up more food and water and we are allowed to grab a few hours sleeping on the floor (they move our sleeping bags from checkpoint to checkpoint for us).
Dot Watching!
You can watch my progress, and the progress of all the other runners by visiting this website. All of the runners carry a beacon that broadcasts our location and the website shows where we are – except sometimes it doesn't. My race number is 406.