I spent last weekend cycling in Cornwall with about 40 other riders and a great bunch of organisers and volunteers. We were taking part in the tenth CoppaFeel! Hilly Hundred. The ride is a two-day event raising money for the fantastic breast health and cancer awareness charity CoppaFeel! (feel free to donate to my fundraising by clicking here).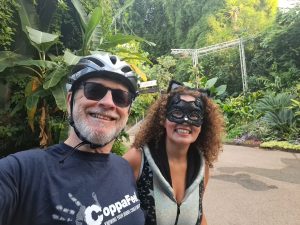 My daughter Michèle has been involved with CoppaFeel! for many years (she is dressed like a cat person in some of the photos). This has given the rest of the family to join in too. My son William was also riding (he is the guy in the pineapple costume).
Day one was the longer of the two days. Starting and finishing at the amazing Eden Project, we rode to the South Coast, along the coast through towns such as Mevagissy and St Mawes and then back to the start. The distance was a scenic 89km, and we climbed 1546 metres (55 miles and 5072 feet). Over the two days, we climbed the equivalent of riding up Ben Nevis twice.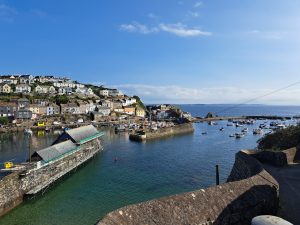 On day two, we cycled North from the Eden Project, taking in Bodmin Moor and the Camel Trail. Day two was a little easier than Day 1; we cycled 74km with 1153 metres of climb (46 miles and 3783 feet). The weather on Day 2 was a warm and humid 26C, so taking on plenty of fluids was important. Whilst the riding is serious, it is also fun; for example, on the Camel Trail, William and I took a break for a snack (a flat white and a Cornish crab sandwich for me, a coffee and Cornish pastie for William).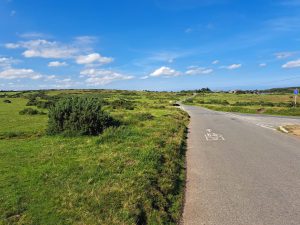 As regular readers of my blog will know, I do a lot of running, but cycling is another kettle of fish. I have not ridden a bike for more than 10 miles since before the pandemic, so I had a couple of challenges over the weekend. The first was that my bike handling skills were a bit rusty, and I was tentative doing down the steep hills. My top speed over the two days was 54km per hour (about 33 mph). The second was that my hands got quite sore over the two days, gripping the handlebars and especially pulling on the brake levers. Not surprisingly, despite padded shorts, my bottom was a little tender after two days, but not too bad.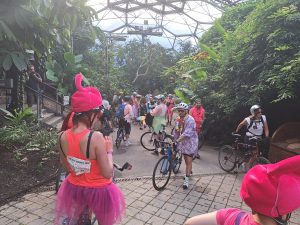 In some ways, the two days of cycling was a bit like my recent hiking trip; because of all the running, I had forgotten just how much I like cycling. The ability to travel so much further and the extra visibility that sitting on a bike gives are great, and the descents are exciting
PLEASE READ KRIS's Story
Even if you read nothing else today. Stop what you are doing and read the story of an amazing woman Kris Hallenga. Click here to read it.
Want to donate to CoppaFeel!
If you'd like to add, say £5 or $5 to the total I have raised for CoppaFeel!, please click here.