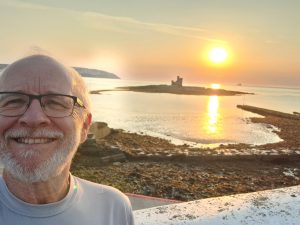 I had a very enjoyable running time during the week commencing Sunday, 14th August, so I thought I'd share it.
Sunday 14th was the British Masters Marathon, which was held as part of the Isle of Man Marathon. In the context of running, Masters refers to runners 35 and older. In terms of this race, the age categories were in five-year intervals, so I was running in the 65 to 69 age group.
From where I live (Nottingham), there are not many options for getting to and from the Isle of Man (an island about equidistant between Scotland, Ireland and England). The registration for the race was on Friday and Saturday, so I flew to the Isle of Man on Friday and flew back on Monday. I had not been to the Isle of Man before, so I took the chance to be a tourist, matching my running with visiting new places. After checking in to my hotel in Douglas and registering for the race, I met my friend Rosie who lives on the Isle of Man. Rosie gave me a great mini tour, driving over the island to Peel where we had fish and chips on the seafront and then walked around Peel Castle.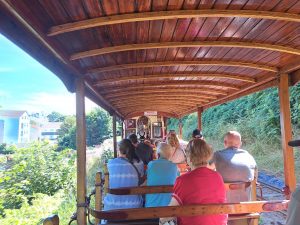 Saturday was a free day and I took the electric railway from Douglas to Ramsey, which was a wonderful ride along the coast. The electric railway was built in 1899 and is the oldest electric tramline in the world who still use their original rolling stock. In Ramsey, I checked out where the race would start, explored the town, ate some local crab for lunch and headed back to the railway. On my way back to Douglas, I stopped at Laxey and visited the largest water wheel in the world.
Sunday morning was race day. Before the race, I was nervous because I had not been able to prepare for a marathon (it was only three weeks since I had finished the 268-mile Spine Race), it was my first British Masters Marathon (so I was wondering how good would the other runners in my age group be), and the weather was hot for the UK (it went up to 25C). The marathon used a two-lap course. The route headed out along the coast from Ramsey, up a long hill, and then looped back inland to the town. Although it was warm when we started, at 9:30am, I knew it would get warmer as the race progressed, so I changed my normal strategy. Usually, when I do a 10K, a half-marathon or a marathon, I try to run the second half slightly faster than the first half (which is called a negative split). Because of the weather, I decided to run the first half-marathon faster than the second.
On the first lap, I completed the half-marathon in 1 hour 46 mins. On the second lap I throttled back. Two examples of what I mean by throttling back are keeping my heart rate even lower when going up the big hill and stopping at each water break (drinking a bottle of water and using a sponge to cool my head and neck down). The second lap took me 1 hour 55 minutes, giving me an overall time of just under 3 hours 42 minutes.
My time meant that I finished 30th overall, out of 85 finishers. In my age group, I was the fastest finisher, meaning that I won the British Masters 2022 Marathon Men 65-69 Gold Medal – which was quite a thrill.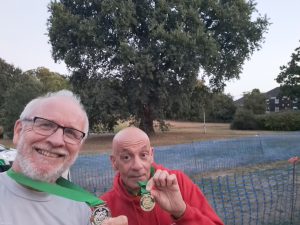 After returning to Nottingham, I took my running fairly steady for a few days. On the evening of Friday, 19th August, I took part in another race, the Notts AA 10K Championships. These championships were run as part of the Castle Rock 10K. This was a race a hilly two-lap route on the University of Nottingham campus. Despite running a marathon five days earlier, I gave the race a good shot and was able to run both laps at the same pace (4 minutes 30 seconds per KM). My time of 45 mins 55 seconds was good enough to win me the silver medal for Men 65-69. The winner of the Gold medal was my Redhill Road Runner club mate Des Gibbons, who had a time of 43 minutes 10 seconds.
On Saturday morning, I rounded the week off by taking part in the Sherwood Pines 5K Parkrun, with lots of friends including Pete, Paula, Lauren, Charlotte, Simon and Leigh. I was the 30th fastest finisher (out of 228 participants) and was the fastest finisher among Men 65+. All in all, this was a good week in terms of running and an excellent week in terms of my age group.
My main interest in running is to be a participant. However, it is nice to improve and finishing higher in the rankings is pleasant and provides a useful target. Comparing myself with other over 65-year-olds is a bit precious, but it is fun. I am using the Masters events as a method of picking events to take part in, which is taking me to new locations and event. My next event is the World Masters Mountain Running Championships, in Ireland.