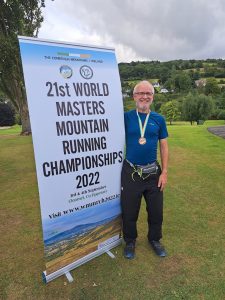 On Saturday, 3 September, I participated in the World Masters Mountain Running Championship in Clonmel, Ireland. I took part because I wanted to experience a World Masters event, and I wanted to find out if I was good enough to take part in events at this level. I have been to Ireland before, but every previous trip has been to Dublin, so this was a great chance to see more of the country.
The event was quite a big affair. On Saturday, there was the World Masters race and an open race on Sunday. In the World Masters event, there were over 400 runners from a wide range of countries, including Japan and the USA. Because I made my mind up to take part quite late, the local accommodation was booked, and I ended up staying about 30 minutes away from the event (by car).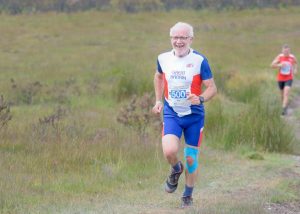 To take part in a World Masters event, you (sort of) represent your country. There are no qualification standards, you simply need to have the money, time and inclination to take part, including travelling to the country, paying to enter the race and finding accommodation. You also have to be a member of your national masters athletics organisation and you have to wear your national masters kit (which you buy). Most of the competitors take the national aspect very seriously, and at the medal-giving ceremony, they play the national anthems of the countries winning the gold medals.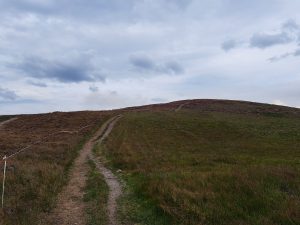 I few from my local airport (East Midlands) to Dublin on Friday morning, hired a car for the weekend and drove down to Clonmel. This drive was fairly uninteresting as it followed the main roads and motorways. At Clonmel, I registered for the race, and collected my run number (number 500). After registering, I went for a run to recce part of the route. After my recce I went to a supermarket to buy dinner for Friday and Saturday's breakfast. Finally, I drove to Cahir, to check into the flat I had rented for two nights. Back at Clonmel, on Friday evening, there was a parade (with the athletes in national colours and local marching bands) followed by a pasta party. Because of the distance from my flat to Clonmel (and because I wanted an early night), I skipped the parade.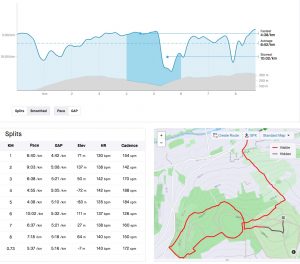 On Saturday morning I drove to Clonmel and prepared for the race. The runners were started in waves. At 10 am the Women 75+ set off, and at 10:15 the men 75+ set off. My start was at 10:45, men aged 65 to 69. This method of starting the races meant that each runner was aware of who they were racing against, which was a definite plus.
The route was a 8.4 km with about 540 metres of ascent. The finish was at the top of the mountain, but there was a long, steep and slightly technical descent at about 4 km.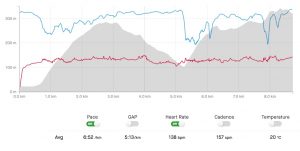 There were 34 men in my age category, and I came 17th, which confirmed that I was of a suitable standard to take part. As well as individual medals, there were also team medals, with three runners from each country to count. I was the third fastest runner from the UK, so I counted, and along with Alastair Dunlop (8th) and Robert Burn (10th) and we won the Bronze medal. The way the maths worked out, for GB to win the Bronze, I needed to be in the top 24, and for me be part of the winning team I had to finish ahead of another runner from the UK. There were four of us from the UK and the fastest three on the day counted as the team.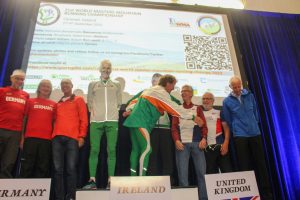 Whilst I was very pleased to get a World Masters Bronze Team Medal, I did keep in mind that only countries that had at least three runners competing (i.e. people with the time, money and inclination) were in the team race, another example of privilege.
Having recce'd the route, my target was to try to finish in less than one hour. This may not sound very fast but the hills and terrain were major factors. My time was 59 minutes 58 seconds, so I was happy with that (and happy with 17th out of 34). In terms of my strategy, I ran the flats and the downhills and the less steep uphill sections, but I power-walked the steepest climbs. The Strava graph showing the pace distribution shows how uneven the pacing of a mountain race can be. The fourth kilometre was downhill (on a slippery trail through a forest) and I managed to run it in 4 minutes 38 seconds. The next kilometre was uphill very steep, and it took me 10 minutes and 2 seconds.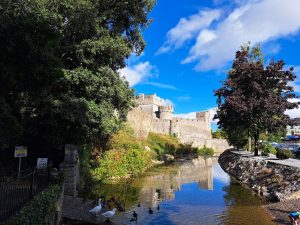 I use my heart monitor to guide my effort when running. This means I mostly use it to slow my running down, to avoid getting too exhausted, too early. The chart showing my heart rate shows that the slope changes, my pace changes, but my heart rate stays pretty close to 140.
Because we started in waves, the men 35+ did not start until about 2 pm. The medal-giving ceremonies started about 5 pm and went on for quite a while. The first medals were Gold, Silver, and Bronze for women 75+, then men 75+, all the way down to Men 35+. I must admit I was really inspired to see the women 75+ on the podium. After the individual medals, it was the team medals. When we got to the men 65+ I was delighted to hear my name called out and to receive a team, World Masters bronze.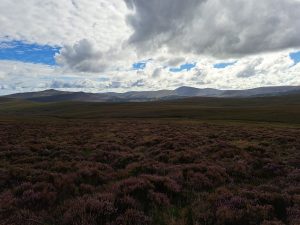 On Sunday morning, I checked out of my apartment and took a scenic drive back to Dublin airport. The first stop was in Cahir to take my daily run, and to check out the castle.
After Cahir, I headed down to Waterford and drove up the East Coast as far as Wicklow and then headed inland to drive through the wonderful Wicklow mountains. I had never seen these mountains before and was really impressed by their beauty. I need to come back and run in these mountains.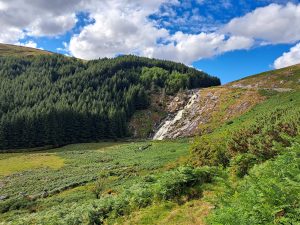 After an uneventful drive into Dublin, a flight to East Midlands, and drive home, I went to sleep, very happy with my adventure.