On Sunday, I took part in a very different event from the 10km cross-country race I did on Saturday, see a post about Saturday's race here. Sunday's race was set up to see how many 5.4km laps of a hilly course the participants could complete in six hours.
The race started at 10:30am and we had to finish whole laps before 4:30pm. A total of 68 participants started the race, and we were a good mix of types. Some people just intended to do one or two laps, several were aiming to do four laps (a bit more than a half-marathon), some were looking to see how far they could walk in six hours, and others were running to see what they could do in six hours.
The race took part in the very hilly Gedling Country Park, with each lap requiring a climb of 123 metres (405 feet). The event was organized by Rasselblock Running, who did a really good job, and I would definitely recommend them.
The result?
I was really pleased with the run, I completed ten laps in 5 hours and 35 minutes, which meant I finished third overall. The two runners ahead of me managed 11 laps. I ran 54.48km (33.8 miles) in just over 5.5 hours. Along the way, I set a new PB for 50K (5 hours 3 minutes). In total, the ascent was 1232 metres (4042 feet).
Strategy?
This was the first six-hour race I had entered, so I had to think about my strategy. If I were to run it in my 'ultra-distance' mode, I would probably only complete 40 to 45km in the six hours. But, if I were only running a marathon (42km) I could run that in under four hours and go home. The strategy I settled on was to run the first three hours in a gentle version of my road running pace (about 130 beats per minute on my heart rate monitor) and then to run the last three hours using my ultra-distance method (more walking, not looking at my heart rate, and quite a bit slower). This worked well for me, I completed about 32km (20 miles) in the first three hours and 21km (13.1 miles) in final 2.5 hours.

My running profile (click on it to see a larger version) shows several elements. The grey, shaded area shows the hills. The red line shows my heart rate (according to my chest monitor). For the first 30 km my heart rate was averaging around 128 beats per minute, but after 30km (as I moved into ultra-distance mode) it dropped to an average of less than 110. The blue line shows my pace and it too changed pattern after 30km. Every 5.4 km there is a pause in the pace data, that is where I checked in at HQ to complete a loop, and to grab a snack and drink.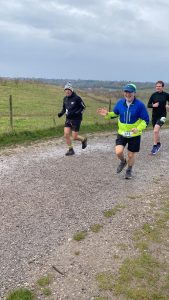 It is people who really make these events
The people from Rasselblock were great. The volunteers, the marshals, the people looking after the food and drink etc, were amazing (especially since they were stood in the cold and rain for six hours). Frankly, for many events, it is the volunteers who make the event a great experience.
I was delighted to see people from my running club (Redhill Road Runners) around the course and cheering me on – that gave me a great lift.
At the end of the race, after I rang the bell at 4:35 to say I was not going to try to do one more lap, I spent quite a bit of time talking to some of the other participants. We had all completed a different number of laps, but there was a clear bond between us because we had all worked as hard as we could, for between five and six hours. The number of laps completed was a function of speed, the bond was that we had all given it the same effort. This is something that does not really come out so clearly in a fixed-distance race. For example, in a regular 50km race, the winners have left before I finish, and I have left before the final finishers complete – we have not had the same experience. In a six-hour race, except for the distance, everyone who sticks it to the end has made a very similar effort.