Today, I have now completed four years of running every day, or streaking as it is often called, that is 1462 days in a row. This year I managed to run 4458 km (2770 miles), which is an average of 12km a day (about 7.5 miles). My total would have been a bit higher, but 2022 finished with two weeks of having a cold and one of covid – so that was three weeks of solo runs of about 3 to 5km at a very steady pace.
Why Streak?
People often ask me why I run every day. My main reason is that I feel it gives me a sense of control. Every day, even when my day is jam-packed, with things beyond my immediate control, the process of making sure I find time for my run returns a bit of control to me. Of course, it helps that I actually enjoy running.
2022 a great year for running
2022 has been an amazing year for me in terms of setting new benchmarks. Please forgive me for listing so many of them, but I want to be able to remember them when I'm, older ?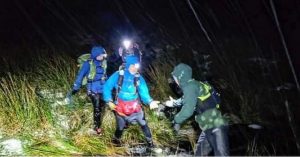 January, Winter Spine Sprint, this was a relatively short ultra (75km) from Edale to Hebden Bridge, but the snow, ice and rivers were epic. I finished 30th of the 94 starters in 16 hours 23 mins. The thrill was being one of the 43 who finished within the 18 hours time limit.
January, Midlands Cross Country Championship at Berry Hill. Despite getting my race diabolically wrong, letting my heart rate get too high for too long, leading to me stumbling and not feeling well, I managed to win the Bronze Model for MV65. I also promised myself, friends and family to be more careful in the future.
February, English National Cross Country Championships, held on Parliament Hill. This race had no age categories, it included the best runners in the country, and I came 1822 out of 2089 – but I loved taking part. We had a large number of entrants from Redhill Road Runners, and that added to the fun.
March, Retford Half Marathon, I set a new PB of 93 minutes 43 seconds, which meant I won the Nottinghamshire AAA Championship Gold for MV65 (men aged 65 to 69). This time was the 37th fastet by a man aged 65 to 69 across the whole country for the whole of 2022 – which is pretty cool.
April, Pennine Bridleway Ultra Challenge, at the time, this was my longest ultra, 270km. I was stoked to finish second, in just under three days.
May was a different sort of month. No races, some recovery from the Pennine Bridleway, and then a 3-day recce of the Pennine Way, covering just over 100km, in preparation for the Spine Race in June.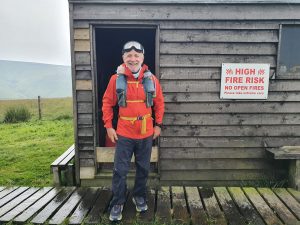 June, Spine Race, this was the big challenge of the year, 431km up the Pennine Way, from Edale to Kirk Yetholm, carrying a 12kg rucksack. For me, this was never about racing. I was stoked to complete the event in just over 5.5 days (the cutoff was 6.5 days). I finished 31st out of the 104 starters, and there were 66 of us who completed the race within the time limit.
July, Puddleducks Trail Race (British Masters Trail Championship), I finished 14th out of 47 runners, but 1st in MV65 – which I think makes me the British Gold Medal for MV65. The ambiguity is that although the race was listed as the British Masters Trail Race, I entered and was the first to finish in MV65 – but I have not heard back about the medal – not to worry.
August, Formula One Castle Rock 10K (incorporating the Nottinghamshire Champs), I finished 73rd, but second in MV65 (behind my teammate Des) winning a silver medal.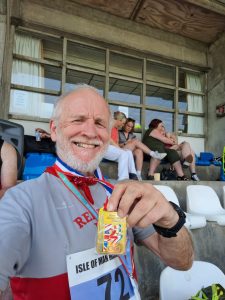 August, Isle of Man Marathon (and British Masters Championships). On a hot day, I was happy to have run it in 3 hours 42 minutes. This placed me 30th overall and first in my age group, which meant I won a British Masters Gold
September, World Masters Mountain Running Championship in Clonmel, Ireland. This was my first time running in a GB strip. There were 34 men in my age group and I finished 17th. However, with my teammates who finished 8th and 10th, we won the WORLD BRONZE TEAM MEDAL for MV65.
October, British Masters XC Relay Championships, with my teammates Des and Stan we won Bronze in the British Masters, and Silver in the Midlands Masters Championship.
October, Bath Half Marathon, I finished in a reasonable 94 minutes 30 seconds, which was good for 539 overall out of 6769 finishers, and 6th in my age group. This race also qualified me to run in an England vest in 2023 in the Chester Half Marathon/
November, English National XC Relay Championships. There were no age categories, so this was very much about taking part. I ran in the Redhill B team and we finished 152, out of 198 teams – but it was great to be running in the team.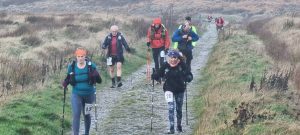 November South and North UItra, this is a two-day stage race, day one being 50km and day two 43km. I ran the race a little slower than in 2021, taking 13 hours 33 minutes and finishing 25th out of the 47 runners who finished both days.
December, Gedling Country Park Headstock 6 Hour Race. This race was a challenge to see how many laps of a hilly 5.4km route we could complete in 6 hours. I completed 10 laps in 5 hours and 35 minutes, which meant I finished third overall. I also set a new PB for 50K (5 hours 3 minutes).
There were lots of other runs, summer league races, local cross-country races, parkruns, runs with Redhill Road Runners, fell runs and social runs. It has been a fantastic year and I was very pleased to have won two awards from my club, Redhill Road Runners. I won the Graham Dugdale Award (Outstanding Club Runner) and Cross Country: Male.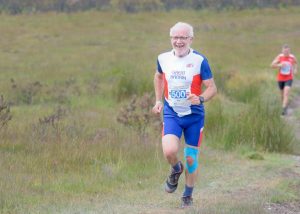 It is never too late!
When I was at school, there were about 70 lads in my year, and I was not in the fastest 35. This year I have won medals at county, regional, national and even one at international level. I would never have believed this 60 years ago, or 50 years ago, or even 10 years ago. Remember, your best years might be ahead of you! According to the Run Britain Rankings, I am the 255th fastest male aged 65-69 in the UK, taking all sorts of races and events into account. I want to score better next year, but I am very pleased with 255.
2023?
What does 2023 hold? Nobody knows. Maybe I will win some bling, or maybe I won't, but I intend to run every day, I intend to enjoy my running, and to run with people I like.