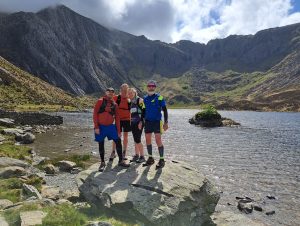 Last weekend was a long weekend in the UK, with a public holiday on Monday. This provided a great opportunity to join friends, mostly from the Redhill Road Running Club and head over to Snowdonia for three days of social fell running. Of all the types of running I do, social fell runs are my number one favourite. These runs leverage the running fitness I have built up through training and racing; they are in wonderful countryside, they are in the company of friends, and they have a sense of adventure. I am a big fan of adventures. My adventures do not have to be big adventures, but I want a regular supply of them.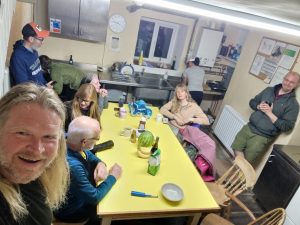 The weekend away was organised by our fell-running guru and leader, Pete. The accommodation was in a terraced house in the Welsh town of Bethesda. The house had two bedrooms, one with two bunk beds (for 3 of us guys), one bedroom had 3 bunk beds (for the five women), and two guys and a dog slept in the lounge. The kitchen had room for all of us and was in the basement.
I arrived in Bethesda just after lunch on Saturday, dropped my stuff in the accommodation, parked my car and went off for my daily run (my streak is approaching 1600 days). Because I was running on my own, I picked an out-and-back route, running along the Afon Llafar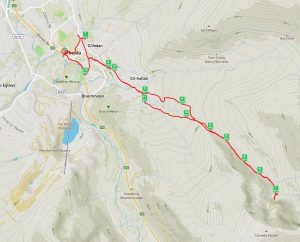 until the path reached steep cliffs that would lead to Carnedd Dafydd (Afon is Welsh for river). I did not climb the cliffs because I was running on my own, and I had only passed one person in the valley. On my way back down the valley to Bethesda, I passed the person I had seen earlier and noticed he was carrying a fishing rod. I stopped and had a chat with him (a luxury I don't get when I am racing). He had walked up to fish in the pools high in the mountains to catch trout – which he enjoyed eating. In all, the run was just under 14km, with a climb of 486 metres.
When I arrived back at the accommodation, more of the others had arrived and I joined them in a local pub, followed by a nice evening around the kitchen table, making plans for Sunday's run.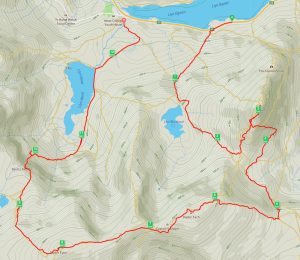 On Sunday, we divided into two groups. One group chose to ascend Snowden via the Watkins Path, which is a pretty tough hike. I joined the other group and the five of us had an ambitious plan to cover 21km, climbing several mountains, and ascending Snowden via the scary Crib Goch.
With Pete leading (with me acting as an assistant) and accompanied by Ruby, Alasdair, and Gary we set off early and parked by Llyn Ogwen (Llyn being Welsh for lake). The first three km took us 1 hour 15 minutes (not exactly running). The reason we travelled so slowly was that we climbed 565 metres in those three km, and a lot of the terrain was scrambling. In the Peak District we often need to scramble as part of a run, but usually, that is a for short stretch. In Wales the mountains are bigger, and the scrambles are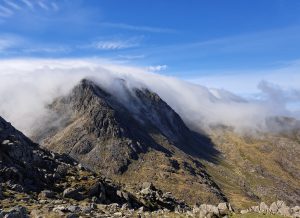 much longer. The peak of this climb was Tryfan, which required an out-and-back climb and descent with tricky scrambling (and descending is just as slow as ascending on this sort of terrain). On the summit of Tryfan, Pete and I met a climber who told us he was 79 years old and had been climbing for 61 years, since he was 18.
On the way up to Tryfan the sky was clear and the views were amazing. As we descended Tryfan, the cloud came up the valley from the Llanberis Pass, and navigation became a lot trickier (with the visibility dropping to about 30 metres).
After a detour off our planned route, we got back on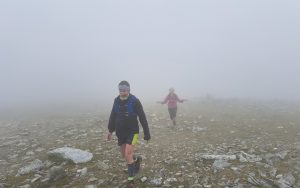 track and headed to our next target the Glyders (Glyder Fach and Glyder Fawr). By the time we reached Glyder Fach we had been on the mountain for two hours and forty minutes. The visibility was still very poor, our progress was slow, and we needed to re-evaluate our plan. After discussion, we decided to change our route, we would continue up to Glyder Fawr, and then loop back to the car via Devil's Kitchen, past Llyn Idwal, and down to the Ogwen Tea Bar.
As we started to lose height, we dropped out of the clouds and were treated to amazing views, including being able to see Conwy Bay in the distance. At the Ogwen Tea Bar we enjoyed coffees along with a mix of Cornish pasties, curried cauliflower pasties, and ice lollies.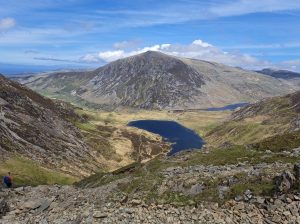 On the one hand, we had not completed the run we had set out to run. On the other (and better) hand, we had stayed safe, we did not risk requiring assistance, and we had a superb run.
The other four set off to collect the two cars, but I took the opportunity to run the 8km back to Bethesda – stopping at the Tesco to buy some more provisions for the house. In the evening, we ate a communal meal with food provided by Pete, Laura, and Gary.
I needed to head home on Monday, as I was working on Tuesday, but there was time for one last adventure. So, Gary, Laura, Lizzie and I ran up the Slate Trail to the Ogwen Tea Room (for more coffee and pasties). On the way up to the Tea Room we met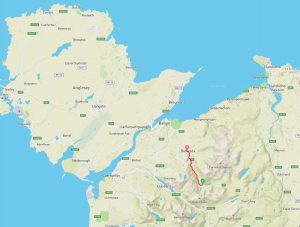 two locals dressed in dry robes. We had a chat with them and they told us about a nice wild swimming spot on the Afon Ogwen. Ruby and Alasdair drove up to the tea room, and ran down the Trail to meet us and we all went up to enjoy one last view of Llyn Idwal. After coffee and pasties, I ran back to Bethesda, collected my gear and drove back to Nottingham.
I enjoy training, I enjoy racing, I enjoy ultras, and I enjoy steady runs near where I live. But these social fell runs are quite special. It is a mixture of the company, the experience of helping take people out of their comfort zone, being taken out of my comfort zone, and of having an adventure. Every adventure utilises my fitness and my navigation and mountain skills, but almost every adventure adds to my skill set. This run reminded me of how the tracks on the ground can be very different from what appears on the map, the difference that visibility makes to navigation, how much difficult terrain slows down our speed, and it was a great example of when to stick with a plan and when to change a plan.
Thank you, Jo, Sean, Paula, Lizzie, Alasdair, Ruby, Gary, Laura and especially Pete, for creating such an amazing weekend.