On Monday, 1st of May, I participated in the Milton Keynes Marathon. The news is mostly good, a) I was able to run (after my recent mishap on the Northern Traverse), and b) I finished in 3 hours 36 minutes 25 seconds (which is my second fastest ever marathon time).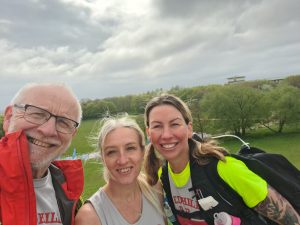 The Milton Keynes Marathon is a well-organized marathon and is predominantly flat (1km downhill at the start, 40km flat, then 1km uphill at the end). This was the first time I have run this marathon, and I was joined in it by two of my clubmates Trudi Cheetham and Susie Hennessy. We all travelled down the day before the race (about a two-hour drive from Nottingham), so we were relatively fresh for the 10am start.
My marathon PB (personal best) is 3 hours 28 mins, set about 18 months ago. I was aware I was not in absolute top form (I am bout 5kg too heavy, and my training was interrupted by the injury I got in my last ultra). However, I decided to give it a go and set off following and talking to the 3hour 30 minute pacer. I quite soon realized that I was probably going to need to slow down as my heart rate was hovering around 137 beats a minute, which is a bit high for me if I am going to be running 3 to 4 hours.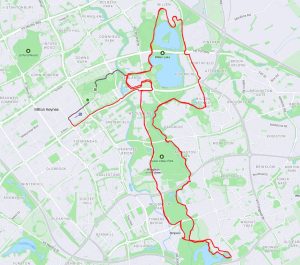 At 14km I let the pacer drift away from me as I started to run in band of 133 to 135 beats per minute, my pace was only very slightly slower, 3 to 5 seconds a km slower. At 34km I realised that I needed to slow down a bit more dramatically if I was to avoid getting too exhausted, and the last 8 km were run at about 5:25 mins a km, about 25 seconds a km slower than my first 14km. The net result was that my second 21km was about 6 minutes slower than my first 21km. My target is to try to run the second half of a race slightly faster than the first half – something called a negative split.
The two reasons I rate this run as 9-out-of-10 are a) it was 8 minites slower than my PB, and b) because my second half was so much slower than my first half. However, I am happy with an 9. With 2020 hindsight, if I had run the first half 2 minutes slower, I might have run the second half 4 minutes faster and finished 2 minutes better off. But one never knows before a race how it is going to pan out.
In terms of comparative results, I finished second out of the 13 men aged 65 to 69, and even more pleasing I finished 270 out of the 1390 runners. My time is not showing on the RunBritain rankings yet, but I think my time is the 21st fastest by a male 65+ veteran so far this year. As the year goes on, I will drop down the rankings, but it is nice while it lasts. My age grade score was about 77%, i.e. I was about 77% as fast as the fastest person in the world who is my age.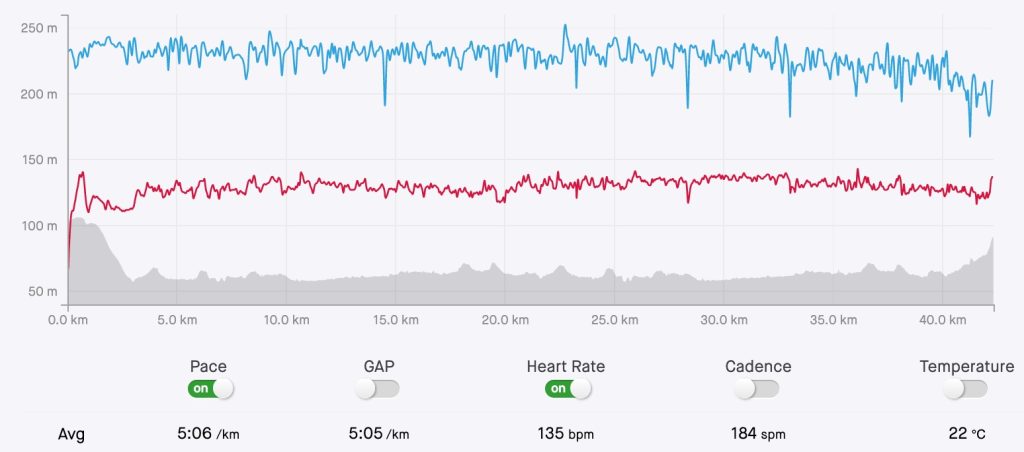 The Strava chart above shows some of the stats from my Garmin watch and Garmen chest band. The grey line at the bottom shows the hills. You can see the downhill, the flat, and then the uphill. The blue line is my pace, and you can see how it dropped from about 34K – the steep dips were the water stations. The water was served in cups, so I stopped, drank two cups and then started running. If I try to run slowly and drink from cups, it goes all over the place. The red line is my heart, in beats per minute. You can see it slowed a bit from 14km, then climbed up, then slowed again when I made the bigger cut in my speed at 34km – and it spiked back up when I went up that final hill. My target cadence for racing is over 180 steps per minute, so I am happy with the average of 186 SPM in the chart.
A few thoughts on the Marathon as a Race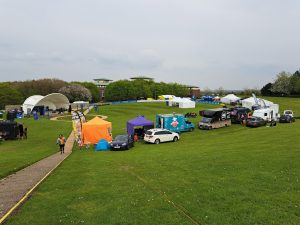 I think too many people feel they 'ought' to do a marathon. If you want to do one, do one. If you enjoy them, do plenty of them. But, for most people, me included, a marathon is not a fun event.
If you only run a few marathons, then you are typically trying to run them as fast as you can. This means you need to train for them, and the training for a marathon is much more time-consuming than training for a 10K or half-marathon. Marathon training also tends to slow you down, i.e. your ParkRun times may get slower. A half marathon will take a regular runner between 90 minutes and 2.5 hours – a chunk of time but not too bad. A marathon will take a regular runner between 3.5 hours and 5.5 hours. For all of that time, you are trying to finish as quickly as you can. So, if you don't fancy the marathon, that is fine.
If you are worried about marathons, consider an ultra, they are more fun, and frankly, for many of us, they are easier. When I run 42km, I am trying hard and thinking about my pace, I am watching my heart rate and I know I am going to be uncomfortable. If I run a 50km race in the hills, I do not wear my heart-rate monitor, I talk to other runners and even to walkers, I might stop and take a photo, I walk up the steep hills, and I pretty much never get out of breath. If I ran a marathon at 6 mins a km I would be upset with myself. But when I run a 50km ultra I am happy to trundle at 8 mins a km – it is a different mindset.
So, why do I run marathons? I run them to compete. I am involved in Masters' events and I want to see if I can get a good placing, or even a medal (last year I won the British Masters Gold Medal for the Marathon). This is quite a different buzz from simply running for fun (which is what I do most of the time).
With any luck, my time in this race will get me a place in the England Masters squad later in the year – in which case I will run another marathon this year. But if I don't make the squad, I might wait till next year before I run another marathon.
9 or 8 out of 10?
When I started writing this post I had 8-out-of-10 in my mind (which is what I had told some of my friends in the two days after the race). But by the time I finished the post and read it back, I decided that 9-out-of-10 was a better reflection of how I now feel about this run.