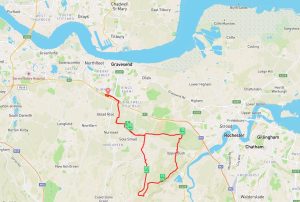 Today was the British Masters multi-terrain championship, run across 30K of the North Downs (18.6 miles). The Championship was run as part of a larger event, the Istead and Ifield Harriers' 30K North Downs Race. This was the first time I have taken part in this race, and I was hopeful of doing well.
Depending on the terrain and conditions, I would expect to be able to run 30K in about 2 hours 30 minutes, so I had 2 hours 45 minutes in my mind as a target (given this was off-road and warm). However, the temperature was higher than I had anticipated, reaching 30C°, and the race did not turn out as planned.

As you can see from the profile of the route, the race starts with about 10K of uphill (with the odd downhill). The first couple of km were roughly at my target space, about 5 mins a kilometre. However, my heart rate was above my target range. For a two to three-hour race, I try to keep my heart rate at 139 beats a minute. But after 2K it was bumping up to 144, partly the hill and partly the heat. From 2k to 9k I keep trying to keep my heart rate at 139, but it was not working. The slope and the heat meant my heart rate kept bumping up, reaching 151 beats a minute. As a point of reference, if my heart is typical for my age, my maximum heart rate is 154 beats a minute, so 151 beats is too high for more than a sprint.
Running inside myself
At this point, I decided that I needed to switch to my plan B. My plan B, whenever the going gets too tough, is to 'run inside myself'. This means taking my foot off the pedal by choice before I have to. My plan B is to ensure I do not get into stress. I shifted my heart rate down to 135 (by shortening my stride length, which means going slower), and I started walking up every hill. I decided to run this race more like an ultra.
Running inside myself, I could enjoy the scenery, have fun on the steep descents, chat with people, manage my water intake and avoid overheating. On two occasions, there were people with hose pipes sprinkling the runners, and this was a fantastic joy to receive.
After the race, I was warm but fine, capable of enjoying chatting to runners, attending the prize giving, and then walking the 3k (2 miles) to the station for the journey home.
And the result
Instead of my target of 2 hours 45 minutes, I took 3 hours 20 minutes. This meant I finished 161st out of 428. The general race did not have a 65-69 age group for men, so I was grouped with men 60 to 69. In this group, I finished 7th out of 22 – I was not the only runner to be slower than I had planned to run. The winner of the 60-69 group was Ifan Lloyd, who ran an impressive 2 hours 22 minutes, which meant he was 15th overall.
In the British Masters Championship, I ran in the 65 to 69 age group and was delighted to win the silver medal. The winner of the Gold Medal was quite a long way ahead of me. Even if my run had gone to plan, I would not have got gold.
Visiting New Places
One of the great things about taking part in championships is that I often get to visit places I have not been to before, and Gravesend is a place I had not visited before. I travelled down on Saturday, getting there mid-afternoon, and after checking in, I visited the town, the riverfront (it is on the Thames, downstream from London, and had an enormous garlic bread with cheese followed by gnocchi. Gravesend has played a significant role in the defence of the UK, with gun posts dating back to Henry VIII in the 17th Century.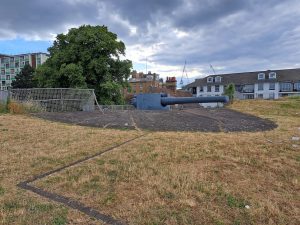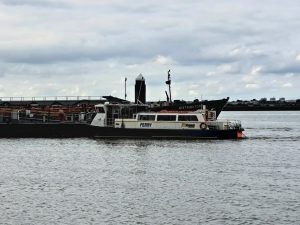 One thing that struck me was how friendly everyone was. I had several conversations with locals, which did not fit my more Northern picture of the South of England, and I was delighted to have my pre-conceptions refuted. However, I was also delighted to spot a real piece of local culture, a café specialising in pie, mash and eels.