I am in Paris today, one of my favourite cities, and I ran with one of my favourite running groups, the Let's Run Paris group (you can check out their Facebook page here).  I have been running regularly since 1981, but I have only been 'social' for less than ten years. For me, social means a) running with other people, b) sometimes running with people I don't already know, and c) actively sharing what I know and learning from what others know.
Let's Run Paris is a group of runners based in Paris (some are French and some are expats) who share an interest in running and are amazingly welcoming to visiting runners. Each Monday evening and Saturday morning, LRP has organised runs, with pacemakers leading the way at various speeds.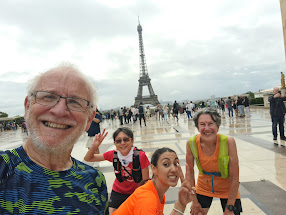 My legs were still tired today from last weekend's ultra, so I ran with the 6-minute per km group, led by a pacer called Namya. During the run, we traversed just over 20km through Paris. Along the way, I had the chance to chat with other runners, whose home countries included Thailand, USA and Algeria – and who had differing running and non-running experiences to share. After running, as I consumed coffee, Orangina and a croque monsieur at the brasserie where we had met and left our bags, I also had the chance to chat with people from faster and slower groups.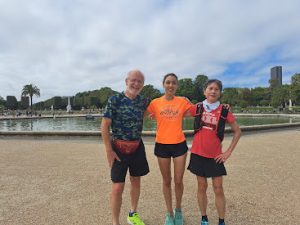 Today's run took in the Bois de Boulogne, Trocadero, the banks of the Seine, and the base of the Eiffel Tower. I learned today that the name for this running (for visitors) is sight-running (or SightRunning or sight running), a combination of sightseeing and running. I have done sightrunning for years but did not have a word for it. Because I run every day (my current streak is now 1686 days), I have run in a wide range of locations around the world. This means I see many unstructured and unplanned areas and views. A typical run is 10km, which means I tend to see more of cities like Toronto, Amsterdam, Tokyo, Bangkok, and Sydney than the typical visitor sees.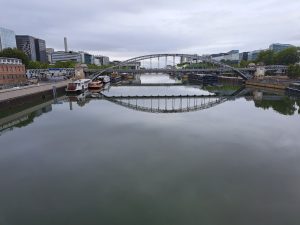 So what?
For me running is great, but it won't be right for everybody. However, I would recommend that people be active if they can, and I would urge you to see if you can make it more social. If, like me, you struggle with small talk and getting to know people, it is so much easier if you have a shared interest. For me, asking people about their last race, their next race, and the types of running they enjoy is a good option for low-risk, high-reward conversations.
If you are a runner and will be in the Nottingham area, give me a shout. If I am free, I would love to run with you and show you some of our local trails.