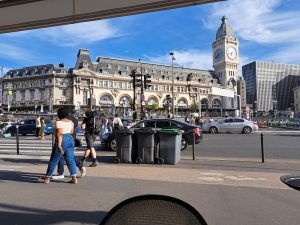 Yesterday I was in Paris in preparation for catching a train to Chamonix for a few days of hiking and running in the mountains. Yesterday morning, I ran with Let's Run Paris (you can read about that here), and in the afternoon, I went shopping for some things for my trip and settled into my hotel. My hotel was the Terminus Hotel, immediately opposite Gare du Lyon, the station for Geneva.
In the evening, I needed to think about dinner. Quite often, when I am travelling, I have a simple meal or go to a supermarket and buy some things to eat in my room (so I can catch up on emails, writing etc). However, I decided to have an adventure and sample something special last night. This also meant ignoring my diet (I struggle to keep my weight under control, so life is a constant battle between me and my appetite). But I decided to go 'all in' on the experience.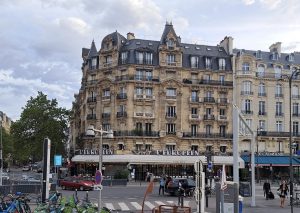 L'Européen
L'Européen is a restaurant facing the Gare de Lyon. It is a brasserie in the 'grande tradition Parisienne', specialising in seafood. This means smartly dressed staff, lots of white table covers, and plenty of cutlery. The inside of the restaurant is very impressive e, but the most popular seats are on the street, facing the station and the people passing by, which is where I say, back to the building, facing the pavement, road and the station.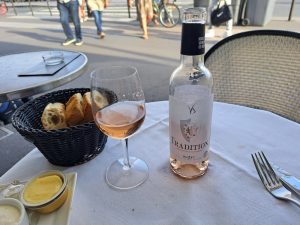 The meal
After checking the menu, I decided to go for a set menu, the Club Affaires, at a pricey 40 Euros. The meal included a starter, main course, dessert, aperitif, wine and coffee. For my choices, I selected six oysters, the sea bream for the main course, and a crème brulée for dessert, all accompanied with bread. For my aperitif, I selected kir made with white wine and a 375 ml bottle of Buzet (a wine I had never heard of before). This was not only more food than I would plan to eat in one meal, but it was also more alcohol than I would drink in a typical month. And I finished the meal with an excellent coffee.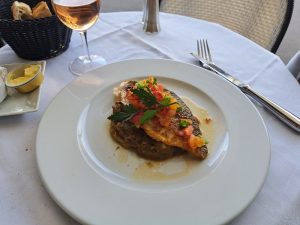 How was it? It was great, every element worked together well. It was well served and presented, and I had a sense of eating from a time past (or lost?), perhaps a little reminiscent of an unpublished Inspector Maigret novel.
The experience
Between the courses, there were pauses. The meal was not an exercise in how fast the restaurant could get the seat free. This meant I had lots of time to watch the passing people, especially people heading to and from the station. One of the delights was watching people greet friends and family as they arrived in Paris.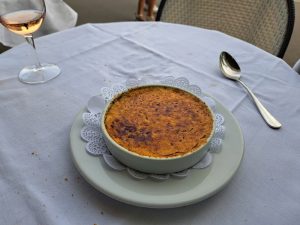 One interesting phenomenon I noted was the incredible range of dress styles. Some people looked great (but in lots of different ways), and plenty of people had choices that were more relaxed. Compared with my youth, there was an almost complete lack of a discernible pattern in the dress style.
The meal/experience lasted about two hours. These two hours comprised a short wait for a menu, then a pause allowing me to make my choices. After I ordered my meal, there were pauses between each section. As soon as I had finished my coffee, I left, but I suspect the restaurant would have been happy if I had stayed there another hour watching the people come and go.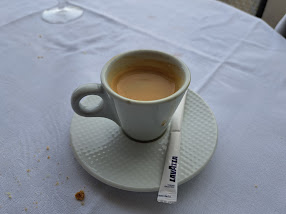 An adventure?
Most of my blogs are more obviously adventures, for example, running a marathon or climbing a mountain. But, for me, stepping outside my regular regime is an adventure. Giving myself permission to do very little for two hours, to sit and watch, and to enjoy slow eating, was a sort of adventure, and a very pleasant one it was too.
Re-visiting the price, I had spent a rewarding and thought-provoking two hours, I had a lovely meal, and drank pleasant wine and coffee. The total packagege was well worth the 40 Euros.